What is Project Management?
Project management is the application of specific processes, skills, tools, and techniques used to lead a team in accomplishing a goal within a defined timeframe and budget. 
To put it simply, project management includes:
The Start Phase where the project idea is outlined 
The Planning Phase where project scheduling happens, tasks are assigned, milestones are decided, and the due date is set 
The Execution and Monitoring Phase where the real work begins. Project progress and influencing factors also start to be observed by the Project Manager or Project Contractor 
The Closure Phase where the results are presented and evaluated
Sound complicated? Don't worry; the right project management software is there to help you navigate the chaos. Keep reading to find out which tool best matches your specific needs. 
Common Features in Project Management Software
The best project management software provides more than simple to-do lists and pre-made templates - although those can help. Below are 8 of the most popular, highly-recommended project management tools at a glance. 
Monday.com 
Hulu, BBC, Universal Music Group, and L'Oréal love monday.com, along with 125k other companies. Monday.com is known for its workflows. It's highly customizable and includes over 200 templates to track things like resource management, milestones, and budget. Additionally, it boasts an intuitive visual interface. Monday.com also has a long list of integrations, including Microsoft Office suite, Dropbox, Slack, Zoom, Jira, Trello, and more.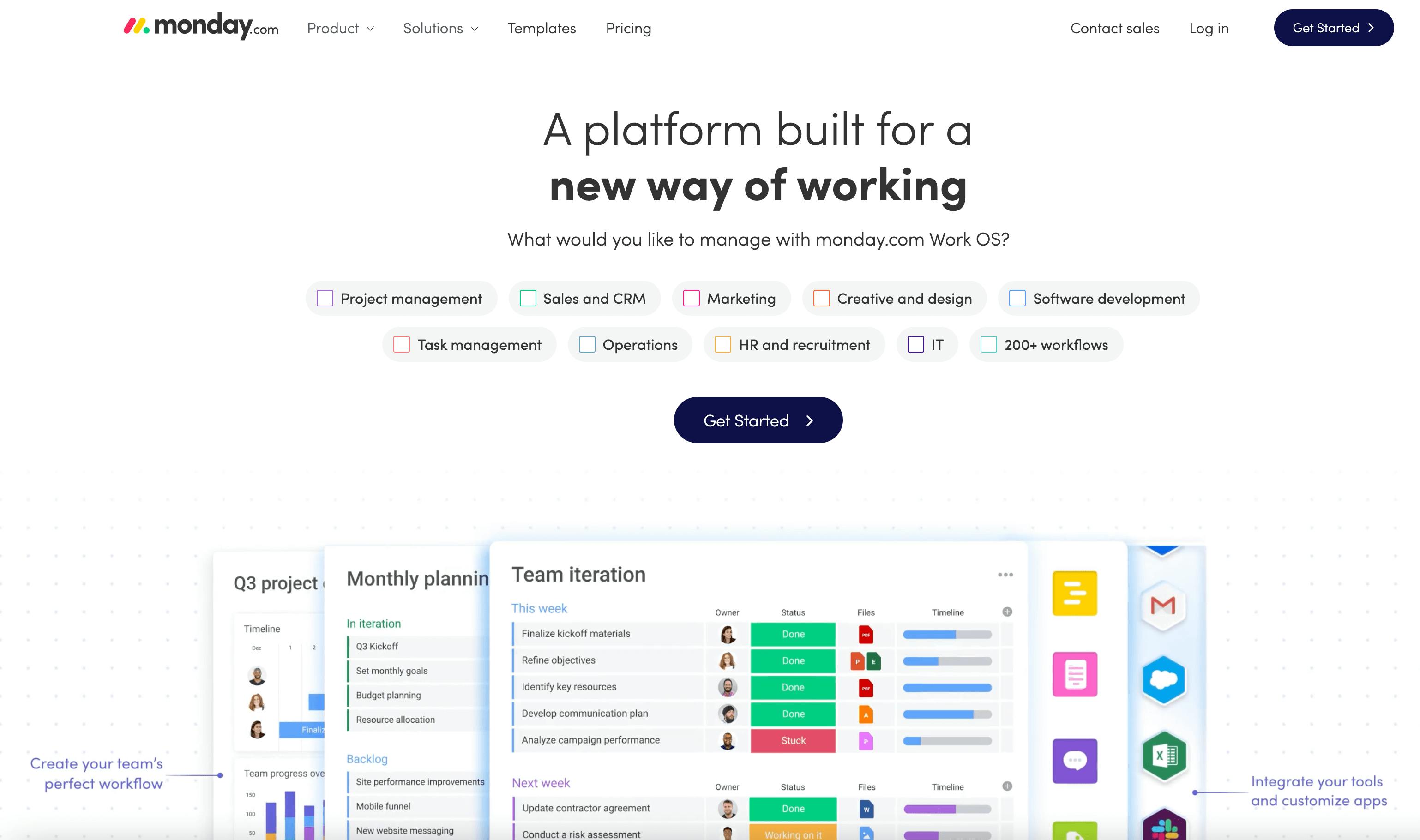 If you're an individual or pair, you can access the basic version of the platform for free. If you're working with a larger team or need more features, you can unlock more at each subscription tier. For example, Gantt charts are unlocked under the Standard price plan, which starts at €10 per person per month. 
Smartsheet 
Nasa, Apple, P&G, and Pfizer are fans of Smartsheet. If you love Excel but aren't the biggest fan of memorizing formulas, Smartsheet could be the one for you. With this award-winning platform, you can create customer lifecycles, improve operational efficiency, make task lists, streamline business apps, and automate workflows. Smartsheet platforms are designed differently for marketing, IT, and operations needs.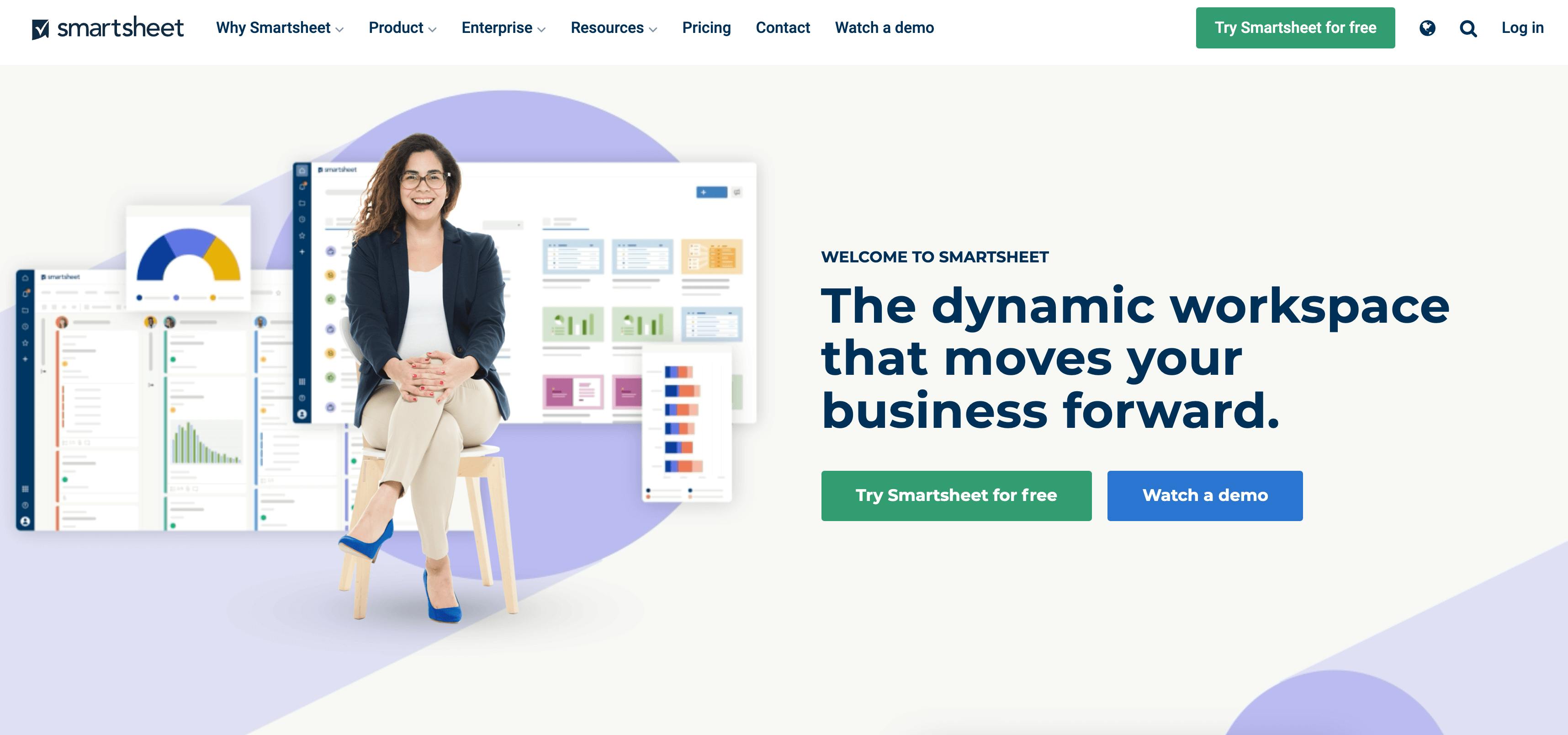 Its 70+ app integrations include Adobe Creative Cloud, Workplace Chat, G Suite, and Slack. It is also expandable through a REST API and via webhooks. Starting at €6 a month per user, Smartsheet requires a minimum of 3 users and a maximum of 25. However, be warned, it is considered a more complicated platform and can require a training period. 
Forecast.app 
Forecast uses an AI management system to automate project planning and scheduling. It calculates task times, assigns and optimizes workloads, and even sets an estimated due date and budget. You can track projects of any size. The AI learns from your team's work and improves suggestions based on previous data.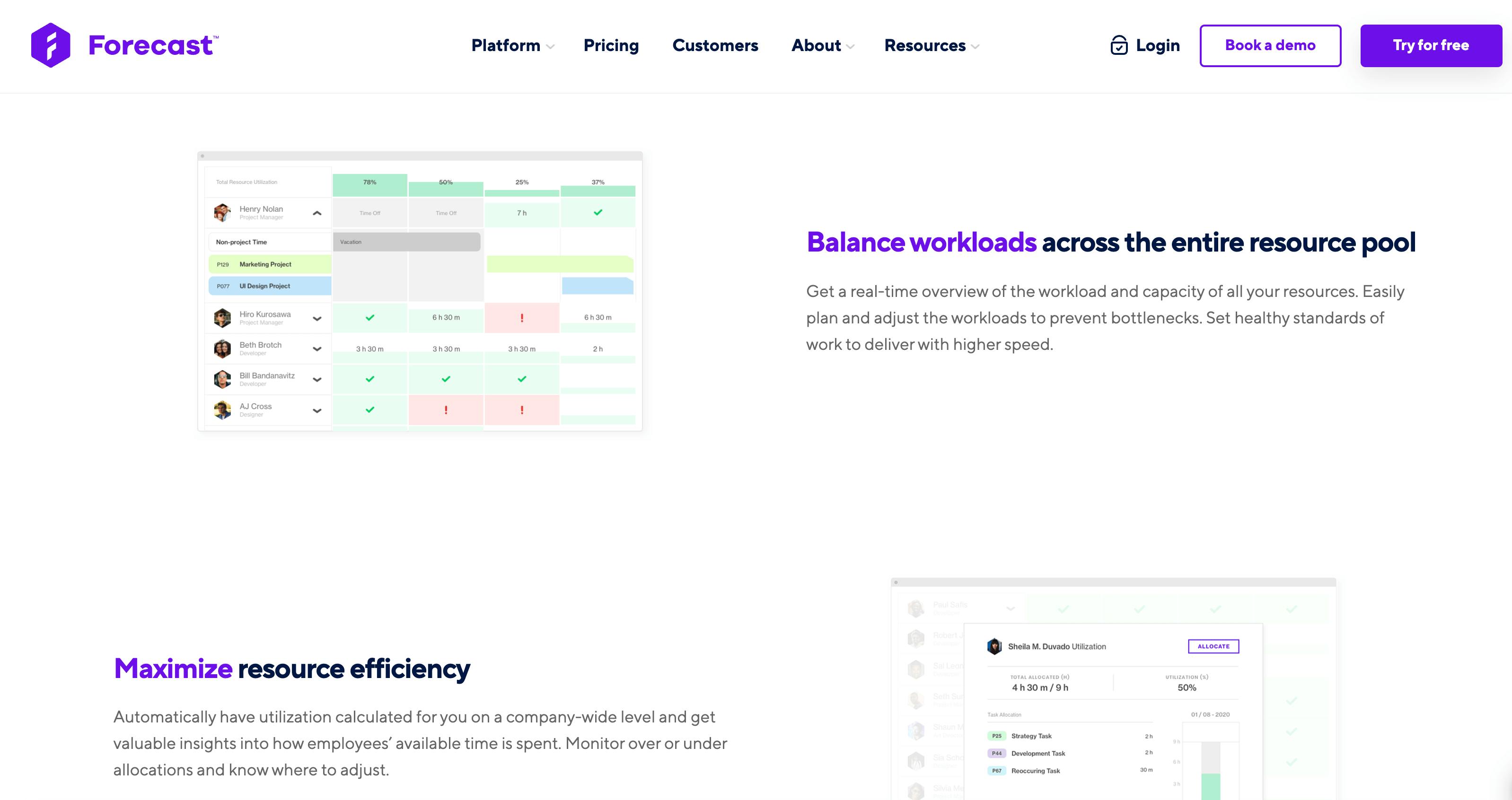 To download Forecast, you should have a minimum of 10 team members. The lowest cost subscription begins at €27 a month per team member. 
Wrike 
Wrike is another app that provides a personalized AI experience. It's excellent for super-specialized industry functionality, large teams, and for those who want scalable software. You can use it for a variety of things like task and subtask management, dependencies, live activity streams, internal and external collaboration, and creating work schedules. The interactive board lets you drag-and-drop tasks for easy assignment and rearrangement.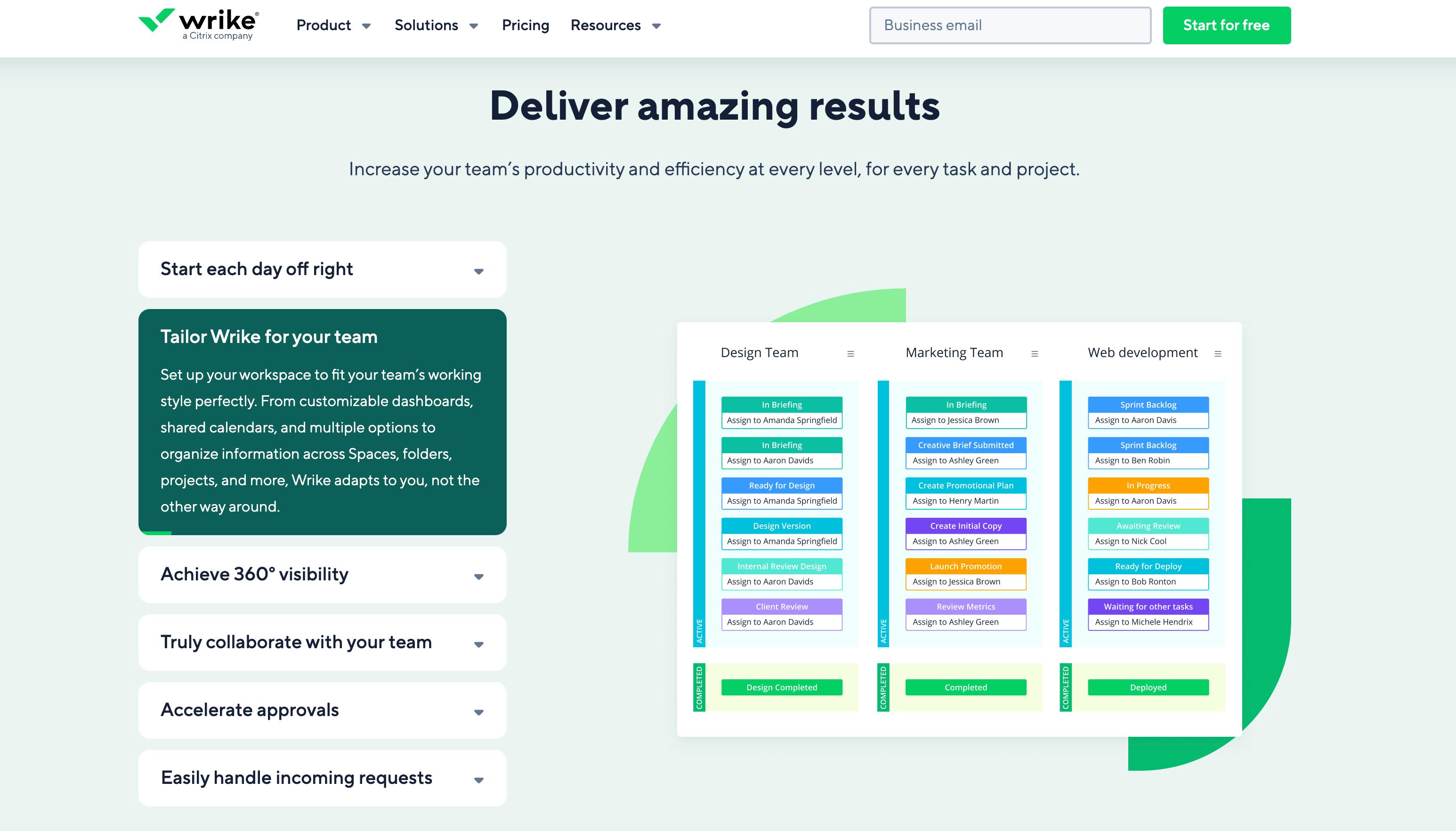 The basic free version supports unlimited users, but for access to more features and a more comprehensive range of integrations, pricing plans begin at $9.80 per user per month.
Asana
To-do lists, Kanban boards, calendars, and other project tracking tools can be found on the web-based platform, Asana. You can a project timeline on the dashboard and see exactly who's working on what in real-time. While it's a great collaboration tool, Asana's many features can take time for new users to learn. Additionally, the platform has over 200 app integration possibilities.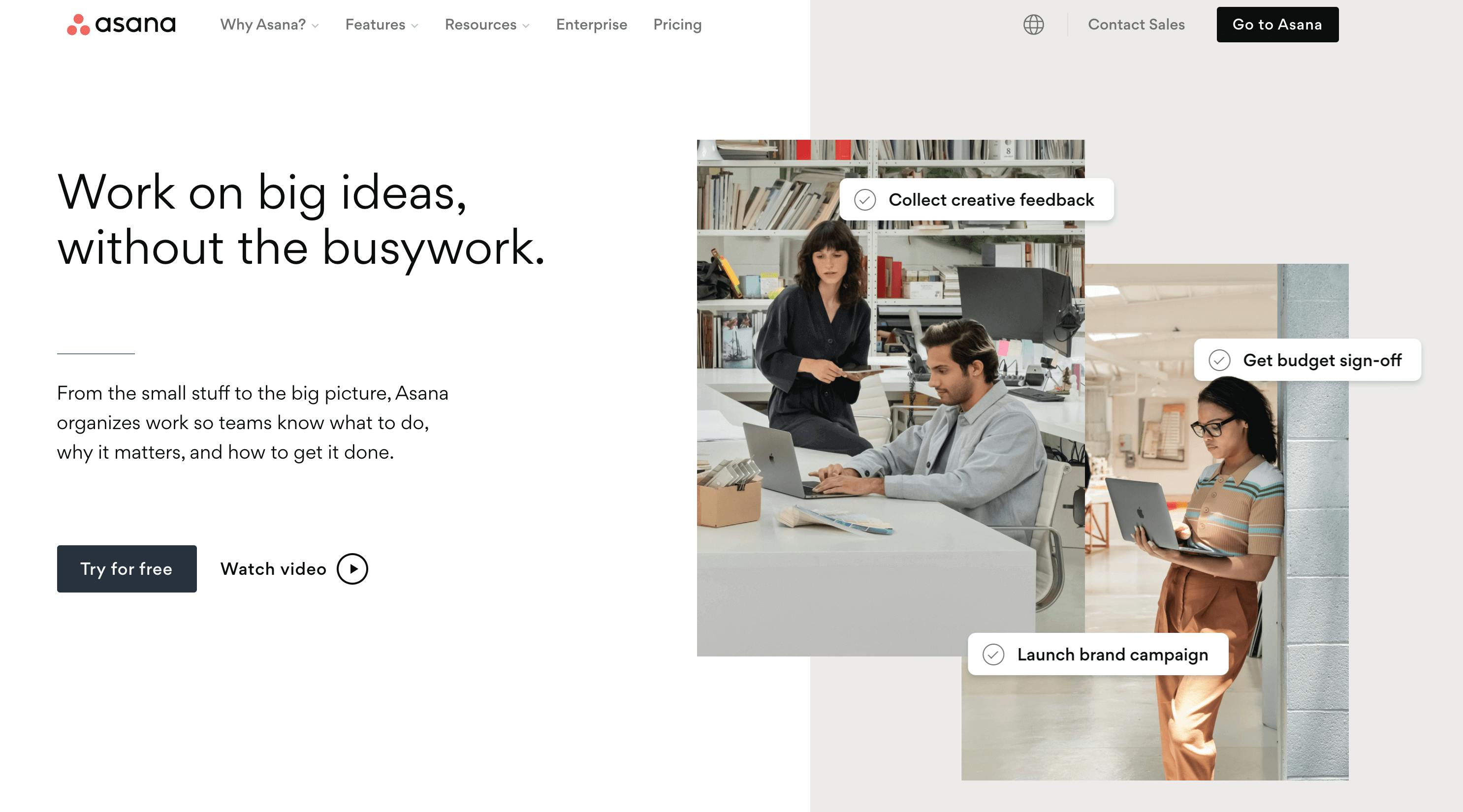 There's good news for small businesses and freelancers with teams of 15 or less. You can work with Asana's basic model completely free. To access proofing tools, portfolio tools, forms, and other task templates, you can upgrade to one of the pro models, starting at €10.99 per month per user. 
Basecamp
Another great budget-friendly option on the list is Basecamp. If you're a student, teacher, or project planning team with 20 users or less, then you're in luck - you can access Basecamp's basic subscription model for free. If you need more than 1G of space and want more features, you can upgrade to the flat rate of $99 per month. These plans are unaffected by the number of people on your team.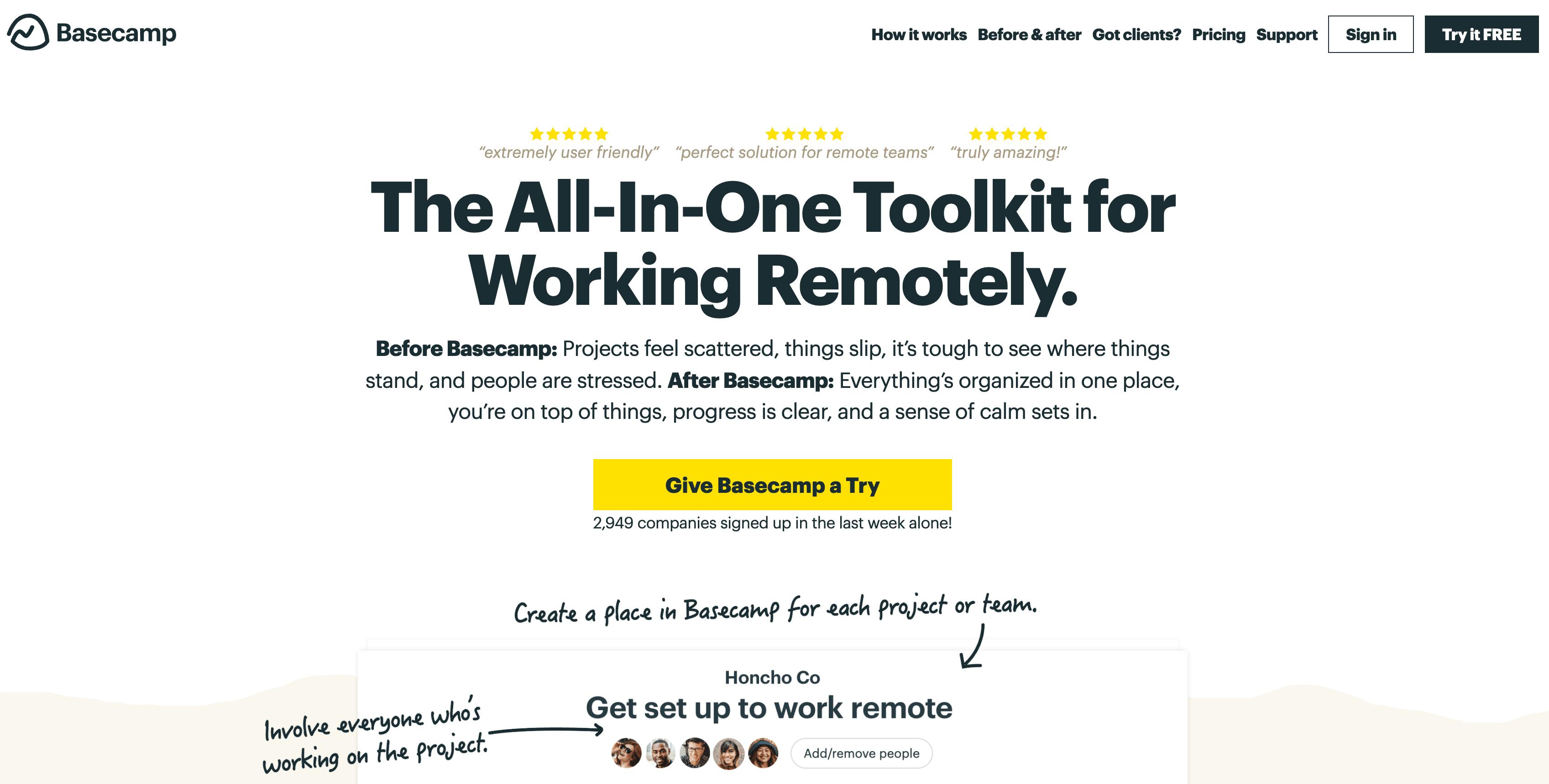 Basecamp includes messaging, to-do lists, a calendar feature for scheduling, file storage, document creation, and a check-in tool. 
Zoho Projects
Used by Gartner, Amazon, Bose, and Suzuki, this tool is designed with consultants in mind and aims to streamline communication, manage project scope, and make time tracking effortless. Zoho also provides the tools to help you develop the perfect CRM solution for your team. Interestingly, this platform prefers its own products over external integrations for project sprints and meetings.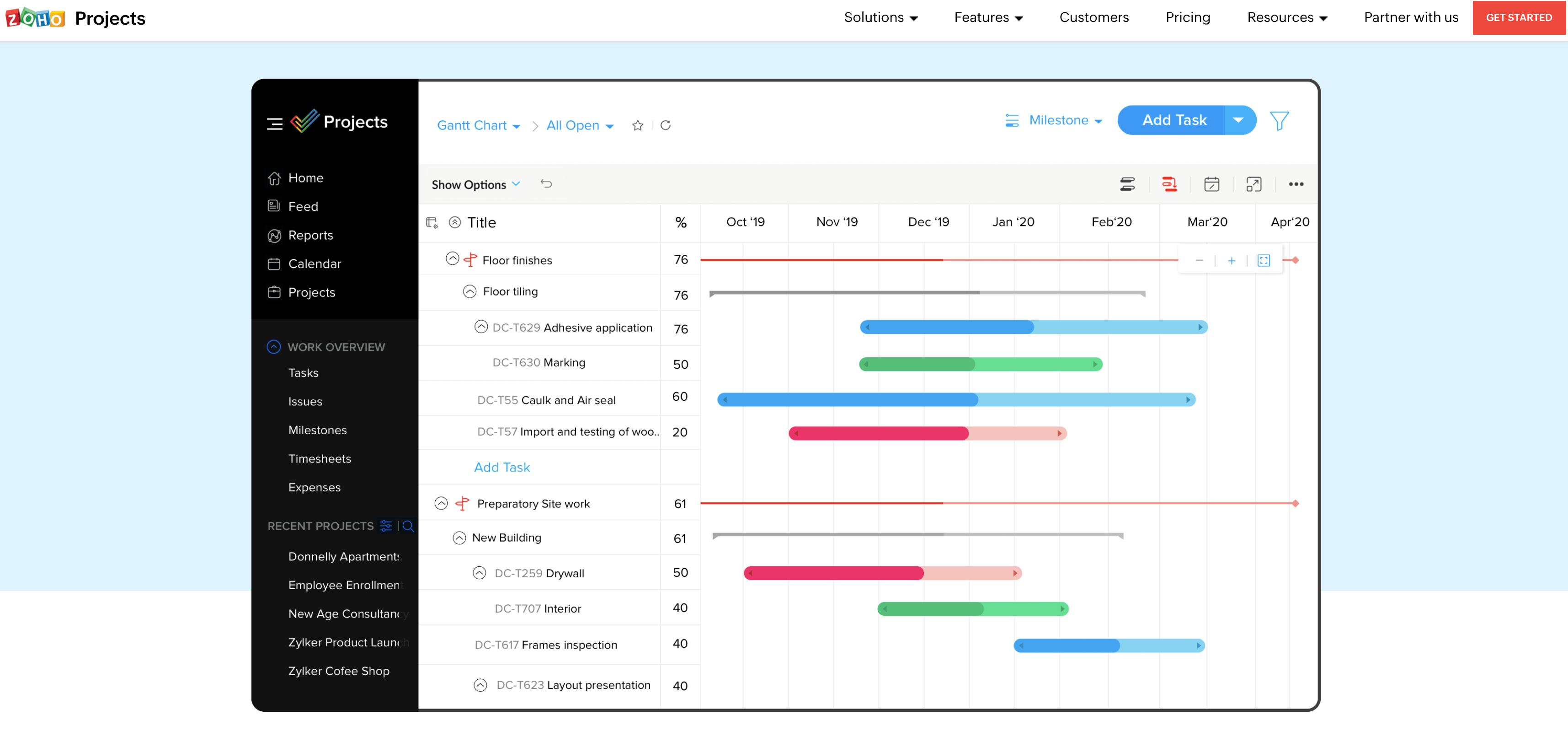 Zoho Projects is great for agile teams and can be accessed on iOS and Android. The basic tier, free for small teams of less than three members, features Gantt charts and scheduling tools. Upgrades start at $4 per month per user. 
Liquidplanner 
Perfect for task management, Liquidplanner creates a great data-filled workspace for larger businesses. It uses predictive scheduling and innovative estimation tools to manage uncertainty. Scheduling, resource leveling, portfolio management, and time management are just a few other capabilities. The platform is also adaptable and lets you rearrange priorities as many times as necessary.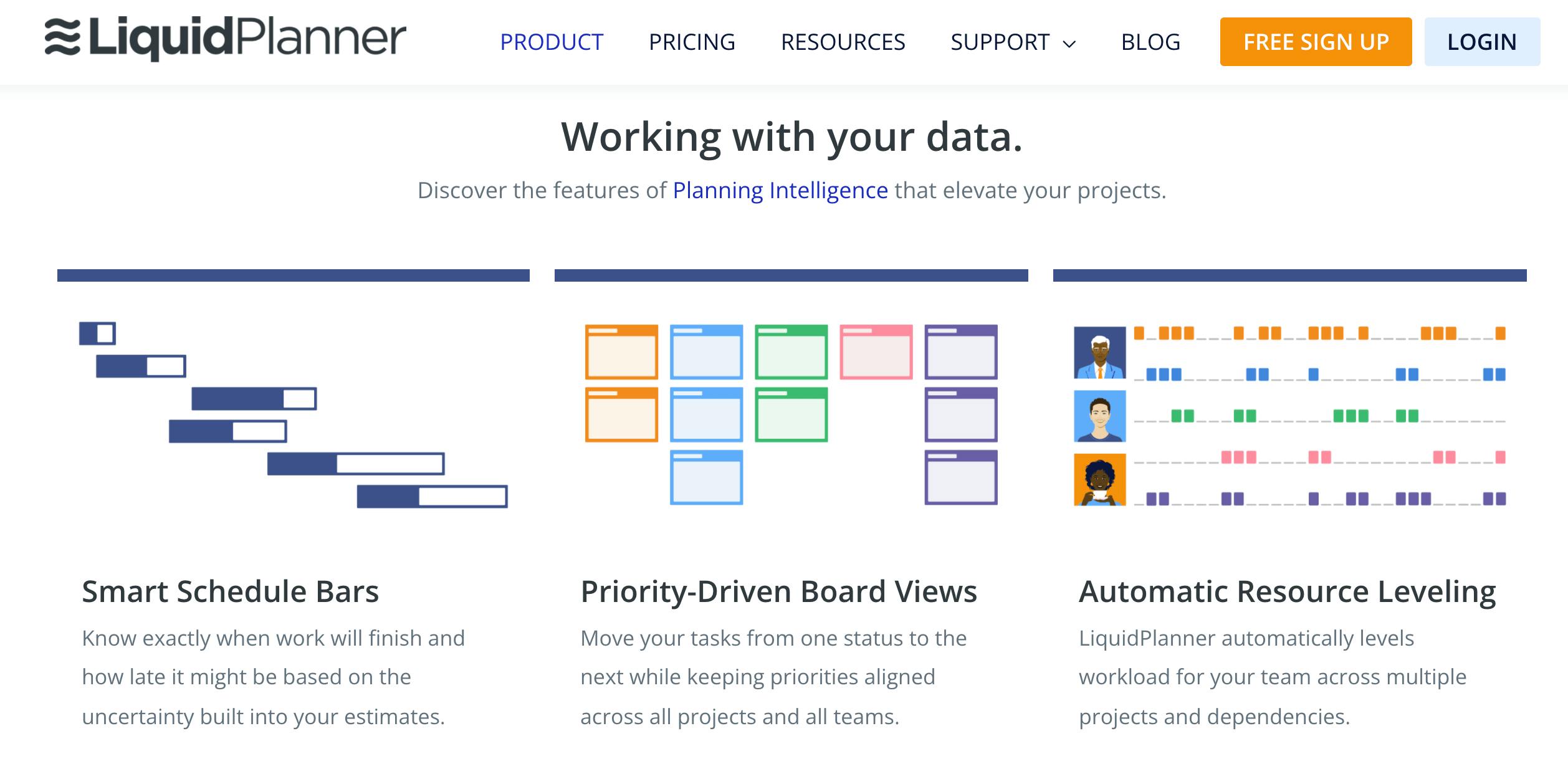 Up to 5 users can access Liquidplanner for free. You can purchase plans starting at $15 per month per user for more users and features. 
As you just read, there are many excellent project planning tools to choose from. I will help you decide which one to trust when leading your team members to success. 
Define your project management vision. Make sure your team has clarity from the start and think about how much you're willing to spend on project management software.  
Create a list of your project must-haves. Complex projects don't necessarily require complex solutions. Make a list of all the features you really need. This will help you determine which subscription tier you might need to purchase. Take time to read reviews and check out the level of customer support they offer if you run into questions down the line. 
Ask your team! Have you heard the expression: "Teamwork makes the dream work"? Your team members should be a significant factor in your deciding process. Do they think that Microsoft Excel is annoying and would rather work with Google Sheets? Are they software development gods and can skip on the no-code software? Is functionality a higher priority than customization? Use their feedback to narrow down your choices.
To save yourself some time, I recommend asking a junior team member, a couple of senior team members, and a manager or stakeholder. Bringing in people with different levels of experience and from various departments will diversify the opinions and give you a better feeling of which tool best suits your project's unique needs. 
What are Project Management Consultants?
Consultants offer professional services and project management advice to external businesses. Companies lacking project management experience or needing professional advice often hire them.

Project Management in Consultancies 
Consultancies are expected to produce strong results on time and on budget, without wasting resources. On top of that, they work under constant pressure to please their clients.
Consultants manage projects by:
Reviewing existing (if any) project management progress
Determining project scope and specifications
Providing an overview of strengths, weaknesses, risks, and areas for improvement
Calculating costs, budgets, and invoices
Assigning project tasks and collaborating with multiple departments 
Presenting project progress, results and offering guidance
Did you notice that there are no typical project management tasks listed here? Unlike project managers, whose job is to perform concrete tasks like executing plans, monitoring, and controlling the project closely, the position of a consultant is only to provide your team with project know-how. On the other hand, project contractors can be hired externally to perform the same tasks as project managers if you're in the market for a complete project takeover.  
Project Management Challenges in Consultancies
Landing new clients and exceeding their expectations can be challenging. A great tip is to be friendly, whether you're talking to a CEO or an assistant. All relationships have the potential to make or break a deal. Secure as many touch-points as possible. Look at potential clients' unique needs and struggles as an opportunity to understand their project goals better.

Refining tasks, incorrectly estimating the required effort, and clients changing factors can all affect the scope of a project. "Scope creep" refers to changes or uncontrollable growth in the scope of a project. This challenge is often faced by project management consultants. Prepare for it by maintaining clear communication with your clients. 
Despite email chains, frequent meetings, long calls, and following up with messaging reminders, it seems like there is always somehow one person left asking, "Huh?". Without everyone on the same page, people could work on the wrong things. To prevent this, think from the perspective of the team members. Avoid overwhelming them with too many communication channels and tools. Instead communicate frequently and clearly from just a few reliable sources. 
Benefits of Project Management Tools in Consultancies
When working with confidential data, it's important to store it securely. Files stored in the cloud are encrypted, kept behind a firewall, and protected from dangerous threats. Thanks to malware and tactics like phishing emails, it's possible for hackers to grab information stored on your own devices. Choosing a platform with cloud-based storage options can be a more secure option. Team members can also conveniently access the shared data from any of their devices. 

Time is a valuable resource when it comes to project management. Utilizing tools can help minimize the time wasted on organization efforts. Some tools include built-in time tracking, which can help you improve your timeline predictions. They also allow for interactive team collaboration and work management, both also beneficial for remote work. Not only can you see who's working on what, but you can visually track progress in real-time. For step-by-step help preparing for the remote workspace, check out this checklist.
Project management software can help you be proactive. If you look at upcoming future tasks, you may notice that your boss will ask you to analyze some data. Go ahead and get that done now while you have the time, otherwise, you might get hit with last-minute requests at 23:59, the night before the deadline.
Tips for Project Management in Consultancies
The best project management tools help consultants use data to their advantage. This includes tools with forecasting functions, profit margin models, and other organizational aids. Built-in customizable project templates and timesheets can go a long way when it comes to saving time. 
Use the past to your advantage. The data should provide information about currently available resources as well as what might have gone wrong in previous projects. This can help you to make better predictions from time estimates to resource allocation.
Minimize redundant work by using recyclables. Many consultancies have deliverables from similar projects leftover from old clients. Powerpoint presentations, programming code, and templates are a few things that have the potential to be recycled - saving you precious time. Create your own storage system by tagging parts of your project work that have the potential to be upgraded and useful again someday. 
Centralizing communication limits confusion and inconsistencies. Avoid using complicated storage systems, avoid putting folders within folders, and be careful not to use too many different messaging platforms. Help your team to stay on the same page. Additionally, you can choose a software platform that integrates with the mobile apps you're already using.

Don't forget to check-in frequently with your team members throughout the project. If you predict threats and risk areas during the planning stage, then you know which areas will need the most support. Set notifications for these points with your project management software so you know exactly when to check in.  
You completed the project! Great, now what? Be sure to debrief and learn what went well, what could have gone better, and what to improve for next time. Prepare notes beforehand so that you can compare your predictions to the real outcome. Later, you can compare learnings from the debrief can to past reports from other clients. This will highlight if there is an area where you consistently underperform and make you better in the future. Reflect, learn, and take time to improve yourself too.  
Conclusion
Unless you dream of drowning in spreadsheets and sticky notes, you'll want to start using a project management software to help you stay organized.  Monday.com, Smartsheet, Forecast.app, Wrike, Asana, Basecamp, Zoho Projects, and Liquidplanner are a few of the most popular platforms loved by consultancies. Choosing the best project management software is up to you and your team's unique needs and challenges. There are many benefits to picking the right tool, especially for project management consultants.